church island menai bridge
Church Island is a small Island which is located just off the Belgian Promenade in Menai Bridge. The Island is accessed via a small causeway from the Belgian Promenade itself, which occasionally may flood on a big high tide.
There are two main ways to the start of the causeway, the first is from the path that comes down through the beautiful Coed Cyrnol and the other is from the walk along the Belgian promenade leaving the Menai Suspension Bridge behind you, which is actually part of the Anglesey Coastal Path.
St. Tysilio's Church
This beautiful peaceful Island is the home of St. Tysilio's church (630AD) which is the tiniest of churches which itself houses some extremely old grave stones. This beautiful little church is still used for weddings.
There is a path that goes through the church yard, past St. Tysilio's church and then round the remainder of the Island and back over the causeway.
During the Spring, Summer and Autumn months the beautiful and historic church of St. Tysilio is usually open during the day.
Cenotaph on Church Island
Church Island is home to the local Cenotaph which is situated on a small hill which is the highest point on the Island, this Cenotaph is a memorial to those who lost their lives in World War 1 and World War 2.
The Cenotaph is situated on the highest point of Church Island and is the one used for the local service on Remembrance day. This rocky high ground has some amazing views which including stunning views of Thomas Telford's Menai Suspension Bridge and Stephenson's Britannia Bridge along with great views of Ynys Gorad Goch, the island with the white house in the middle of the Menai Strait.
Bird Watching
Extremely popular for little Egrets, which seem to be thriving here since breeding for the first time in 2002 on a smaller neighbouring island, and this area is also a stronghold for the Grey Heron.
Lots of other popular birds like the Cormorant, gulls, Curlew and Shell duck can be seen here as well. An excellent location for bird watching between the two stunning bridges that cross on to the Isle of Anglesey.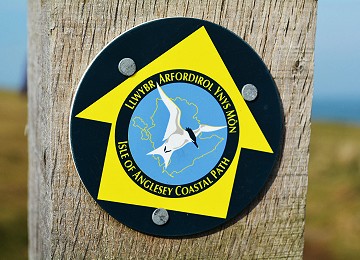 Anglesey Coastal Path
The Anglesey Coastal Path that comprises of 12 sections that circumnavigate the stunning Isle of Anglesey has a section that travels very close to Church Island.
Section 7 of the Anglesey Coastal Path that travels under the magnificent Menai Suspension bridge and then along the Belgian Promenade passes the causeway that leads on to this beautiful little Island. The map link to this section of the Anglesey Coastal Path is here