places to visit - moelfre
The Village of Moelfre is situated on the North East side of Anglesey, the village itself sits on an almost peninsular shaped piece of rock. This stunning coastal village, has some fantastic coastal walks and is steeped in maritime history.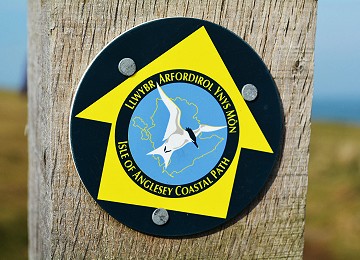 Anglesey Coastal Path through Moelfre
This picturesque seaside village is an extremely popular holiday destination and has some amazing coastal views and is well known for its three local beaches.
The South beach, the North beach and the nearby beach of Traeth Lligwy. The Anglesey Coastal Path travels through Moelfre and around its headland.
The village itself has a small shop which sells the basics, an excellent fish and chip shop, several pubs which also do food and refreshments and a bistro which has plenty of room to eat outside on those sunny days.
The pretty South beach which is made up of smooth round pebbles and is very often used for launching kayaks. There is a nearby snack hut which sells the usual refreshments, sandwiches, hot tea and ice cream with some limited chargeable parking, but very convenient if you want to do the coastal walk around the headland.
Beautiful Coastal Walks
To get to the North beach walk from the South beach up the hill, bear to the right following the Anglesey Coastal Path signs towards the sea, and follow the path around to the right.
As you walk along the cliff top you will see an old stone building on the shore with a slipway. This is the old Moelfre lifeboat shed where the lifeboat used to launch from.
This lovely coastal walk passes the Seawatch Centre and lifeboat Station and after a little while you come to the beach which is on the left, once again smooth round pebbles, but beautiful for a picnic and a paddle! To the right there is an excellent rocky outcrop very popular for fishing.
The Island in front of you is Moelfre Island and home to many seabirds, seals and occasionally porpoises can be seen. There are some amazing views over towards Puffin Island and the Great Orme from here.
The well known Welsh Weatherman and walker Derek Brockway covered a 4.5 mile walk around the Moelfre coast for his programme "weatherman walking" which took in many of the local sights.
Moelfre and its Maritime History
This beautiful village is steeped in maritime history, unfortunately some of it quite sad.
In 1859 the Royal Charter was wrecked near by with Wales highest maritime loss of life, 450 people lost their lives.
Moelfre has a long tradition with the sea and saving lives. There has been a Lifeboat station here since 1854, and in 2015 the newly built Lifeboat station opened and is now home to the new Tamar class lifeboat.
The new lifeboat station is normally open for the public to visit during the day and is a fantastic sight for all to see.
Moelfre and its Lifeboat history
Moelfre has had a lifeboat station since 1875 and over the years the Moelfre lifeboat crews have been awarded 37 medals for bravery.
Coxswain Richard (Dick) Evans was awarded two RNLI gold medals for his gallantry service.
A full sized bronze statue of him looking out to sea is situated in front of the Seawatch centre.
The SeaWatch Centre at Moelfre
In 2011 the Moelfre Seawatch Centre was taken over by the RNLI volunteers and is a great tourist attraction and place of education for kids and families alike.
The Seawatch centre is a visual time capsule of the maritime history of Moelfre.
Amongst the many displays at the Seawatch centre are a former lifeboat, video recordings, lots of artefacts that have been recovered from the Royal Charter by divers.
You can learn about Moelfre lifeboat hero Richard Evans (1905 - 2001) who was awarded two of the RNLI's gold medals for his bravery.
Hen Capel Lligwy
Capel Lligwy (sometimes referred to as Hen Gapel Lligwy) is a ruined chapel near Rhos Lligwy in Anglesey.
Dating back to the first half of the 12th century. The chapel's original purpose is unknown, but it might have been used as a memorial chapel or in connection with a local royal court, or as a chapel of ease in a large parish with a growing population.
It was used for a time until the early 18th century as a private place of worship for a nearby house, then later fell into disrepair. The walls still remain, with some traces of render on them internally, but there is no roof.
It contains a 16th-century side chapel with a vault beneath, used as a burial chamber. It is a Grade II listed building, a national designation given to "buildings of special interest, which warrant every effort being made to preserve them", in particular because it is "a substantially 12th-century structure" with the "unusual 16th-century vaulted south chapel"
Din Lligwy Hut Circle Village
Din Lligwy (or Din Llugwy) hut circle is an ancient village site near the east coast of Anglesey, close to the village of Moelfre, North Wales.
Excavations in 1905–1907 produced hundreds of Roman-period pot sherds of the 3rd and 4th centuries CE, many repaired with iron clamps. Animal bones were found too, some made into tools and one into a musical instrument. The most important economic activity, however, appears to have been iron working, smithing and perhaps smelting.
Despite the mainly Roman finds, the origins of the settlement may well go back into the Iron Age and it was probably a small farming community. From excavation, it seems that the round structures were probably houses and the rectangular ones barns or workshops.
For a pre-Roman site, a great deal remains including the enclosing wall and the foundations of many buildings, many of them with substantial and well made foundations constructed from the local limestone. The outer protective wall is almost intact although much reduced in height.
Din Lligwy is situated on a low hill with good views over Anglesey and a reliable source of fresh water nearby. The hill is now overgrown with sycamore and ash but it is probable that when it was occupied, the village would have had uninterrupted views all around.