rhosneigr beach or town beach
Rhosneigr beach is situated on the western side of Anglesey has to be one of Anglesey's top sandy beaches, this is one of those classic family beaches.
A long golden beach with soft golden sand, this beach is popular all year round both with walkers, windsurfer's and kite surfers. This is a safe family beach where your children can paddle safely and build sand castles to their hearts content.
Rhosneigr beach is one of those amazing sandy beaches that is both beautiful in summer and winter. If you enjoy beach walking then you will be in heaven here! The main beach seamlessly joins Traeth Crigyll which also seamlessly joins Cymyran Beach which is a beautiful, remote and peaceful beach.
Rhosneigr Beach - Fantastic for Water Sports
Rhosneigr beach is extremely popular for water sports both in summer and winter. If you love Windsurfing, Kite surfing, Surfing or Land sailing then Rhosneigr beach is for YOU.
These beaches are exposed to the popular "Anglesey" westerly wind. The western side of the beach is ideal for beginners as it is more sheltered, whilst the eastern side is better for the more experienced as it is more exposed.
Rhosneigr - Water Sports equipment and hire.
With Rhosneigr being so close to the sea, there are plenty of shops to sell and hire out water sports equipment.
Should you want to hire or purchase any water sports equipment like wet suits, body boards, Stand up Paddle boards then the FUNSPORT shop which is located at the bottom of Beach road and right next to the beach!
The Funsport shop also has its own Cafe which has WiFi.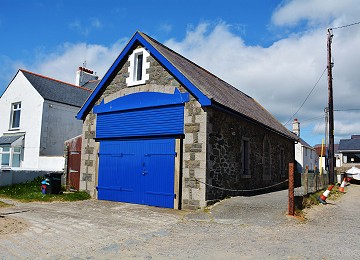 Rhosneigr lifeboat
At the end of the left side of Rhosneigr beach, there is a path that will take you back to the main road, on the left hand side you will see a large stone building with blue doors.
This is the old Rhosneigr lifeboat station, where the Rhosneigr lifeboat "Thomas Lingham" was based.
Although the building is now privately owned, the Thomas Lingham has come back to Anglesey and is about to be restored by the Holyhead Maritime trust.
Facilities
The nearest public toilets are by the library in the middle of the village and there are plenty of shops selling food and refreshments within 200 meters of the beach. Funsport at the bottom of beach road has a cafe and toilets for its users.